Peace discussions and more at TenRande Foundation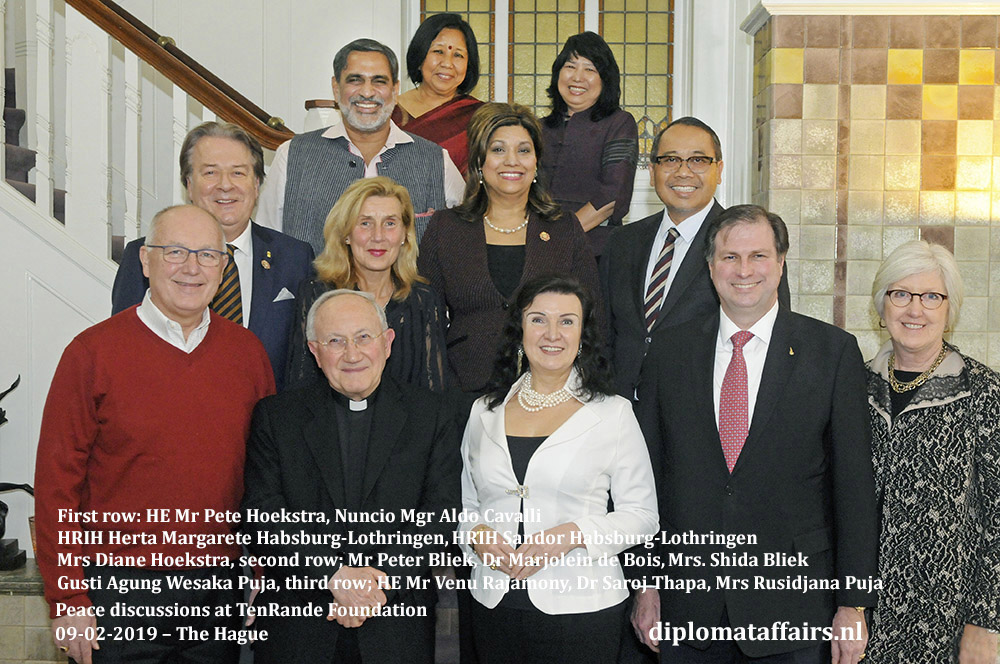 What an exquisite gathering to welcome their Imperial Royal Highnesses and Honorary Members of Diplomat Club Wassenaar Archduke and Archduchess Sandor and Herta Margarete Habsburg-Lothringen of Austria, Prince and Princess of Tuscany on their annual visit to The Hague to open the 51st Vienna Ball in Noordwijk.
The President of TenRande Foundation, Mr Peter Bliek and Mrs Shida Bliek, were delighted to host a lunch in their honour with as guests, their neighbours: the Ambassador of the United States of America, H.E. Mr Pete Hoekstra and Mrs Diane Hoekstra; the Ambassador of India H.E. Mr Venu Rajamony and Dr Saroj Thapa; the Ambassador of Indonesia H.E. Mr I Gusti Agung Wesaka Puja and Mrs Rusidjana Puja, our dear friend the Nuncio Mgr Aldo Cavalli and last but certainly not least board member of TenRande Foundation, Dr Marjolein de Bois.
The wind was blowing up a gale outside, delaying the flight from Vienna to Amsterdam but the sun was streaming into the TenRande residence, highlighting the delicate mauve tints and the abundance of tulips.
The atmosphere was relaxed and friendly as befits a Saturday, with guests enjoying a welcoming tumbler of traditional pea soup around the fireplace. Conversations abounded, all very much linked by Peace as the Embassies of India, Indonesia and United States had held not long ago the celebration of the Gandhi March for Peace: https://www.diplomataffairs.nl/international-day-of-non-violence-with-large-gandhi-march-from-iconic-peace-palace-to-grote-kerk-the-hague/
Peace was certainly a common interest, HRIH Herta Margarete Habsburg-Lothringen devotes her life to Peace through "The Association for the furtherance of Peace" which she founded and over which she presides. At Diplomat Affairs Magazine we covered her June 2016 visit where the "Flame of Peace Award" was bestowed upon
H.E. Mr Ben Bot Chairman of the prestigious Carnegie Foundation and H.E. Mr José de Bouza Serrano, then Ambassador of Portugal, at the Peace Palace. To quote her Imperial Royal Highness: "The flame of Peace is a symbol for Global Peace and should remind us of our mission to work for peace in our thoughts, words and deeds". https://www.diplomataffairs.nl/farewell-to-an-icon/
During the lunch meeting HRIH Herta Habsburg Lothringen and HRIH Sandor Habsburg Lothringen awarded Mr and Mrs Bliek the "Uniting Friendship Award" which she designed herself, incorporating all flags of the world. A token of appreciation for their long-standing role as representatives and special delegates to the Kingdom of the Netherlands for The Association for the Furtherance of Peace.
Another area of activity of their Royal Highnesses as mentioned above is the annual Vienna Ball held in Noordwijk which they attend as Guests of Honour.
This spectacular event involving ball gowns, orchestras, debutantes, values and tradition enhanced with a lot of fun is also significant as fundraiser for SOS Kinderdorpen, an Austrian Foundation dating back to 1949, dedicated to providing a stable and loving home to thousands of children; some orphans, some in hardship families, in 134 developing countries. Diplomat Club Wassenaar is proud to support SOS Kinderdorpen: https://www.diplomataffairs.nl/wienerball/
It was time for a group photo to mark the occasion before their imperial Royal Highnesses set off to prepare for the ball before dashing back to Vienna the next day. A fruitful twenty-four hours in the Netherlands.
At Diplomat Club Wassenaar we are proud and grateful to count amongst our members so many who strive for Peace and a better world.
I will finish with some words from HRIH Herta Margarete Habsburg-Lothringen of Austria talking about peace: "The simplest things in life are the most precious", as is indeed friendship among nations as was exemplified here today.
https://www.diplomataffairs.nl/the-austria-imperialis-gala-soiree-2016-at-schonbrunn-palace-vienna/
Press: Telegraaf
You may also like...
Sorry - Comments are closed