Dutch society welcome Ambassadors as honorary members to Diplomat Club Wassenaar the Netherlands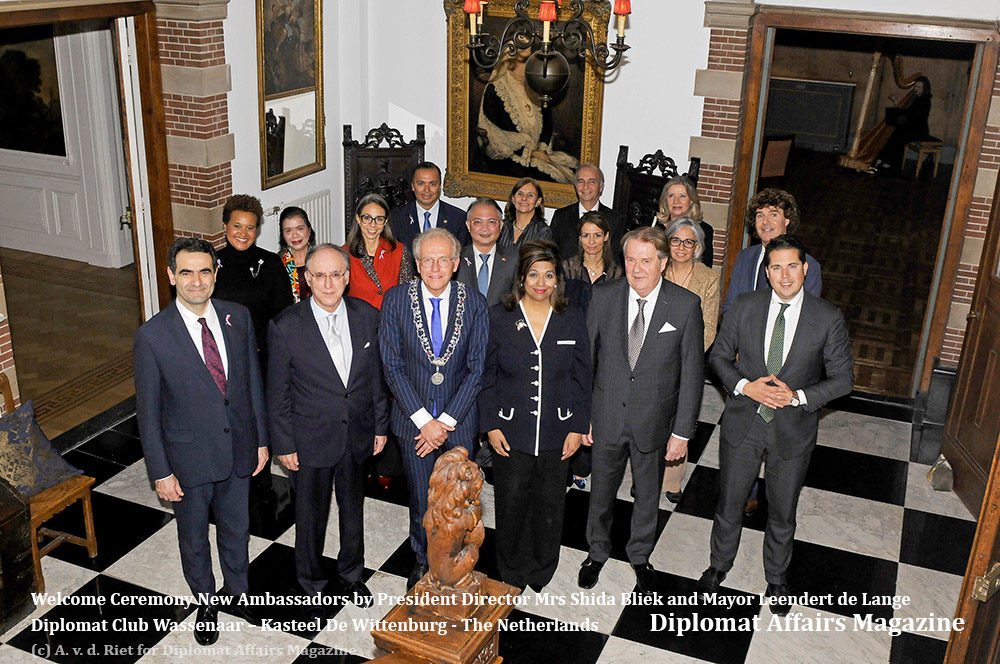 17 October 2023, Kasteel De Wittenburg – Wassenaar
There were seven ambassadors welcomed as honorary members to Diplomat Club Wassenaar, many accompanied by their spouses. This is a bi-annual tradition held for accredited ambassadors to the Kingdom of the Netherlands for almost ten years now.
They were warmly welcomed by the Founder and Director of Diplomat Club Wassenaar and Publisher of Diplomat Affairs Magazine – In touch with the Dutch, Mrs Shida Bliek, Mr Peter Bliek, the Mayor of the Municipality of Wassenaar Mr. Leendert de Lange and the Alderman of International Affairs of Wassenaar, Mr Laurens van Doeveren.
The Director-General of the OPCW, Ambassador, H.E. Mr Fernando Arias (appointed for life as ambassador of Spain) was also present with his spouse Mrs Patricia van Oordt de Arias. He was the first to be welcomed at the founding of Diplomat Club Wassenaar in 2014 and is considered the Dean of the Club.
The Ambassadors present, in alphabetical order of country are:
Ambassador of Colombia, H.E. Ms Diana Carolina Olarte Bácares
Ambassador of El Salvador, H.E. Mr Agustín Vásquez Gómez
Ambassador of Greece, H.E. Ms Caterina Ghini
Ambassador of Poland, H.E. Ms Margareta Kassangana
Ambassador of Portugal, H.E. Ms Clara Nunes dos Santos and Mr Pedro Nunes dos Santos
Ambassador of Türkiye, H.E. Mr Selçuk Űnal and Mrs Lerzan Kayihan Űnal
Ambassador of Vietnam, H.E. Mr Ngo Huong Nam and Mrs Nguyen Thi Thanh Thuy
Mrs Shida Bliek welcomed the ambassadors with a Dutch ribbon and explained the mission of Diplomat Club Wassenaar, a nonprofit organization that organizes events, connects, and publishes articles, in collaboration with the Embassies, through the website and printed Diplomat Affairs Magazine.
The Club may be called Diplomat Club Wassenaar, but it does not see The Hague and Wassenaar as separate entities. Kasteel De Wittenburg was chosen as partner, not only because of its rich history and outstanding beauty but also as the location borders on both.
Mayor Leendert de Lange greeted the ambassadors in their own language, shared some interesting facts about Wassenaar and Zuid-Holland, encouraged the ambassadors to cycle, all in the spirit of helping the newly arrived adapt to their latest country of residence. He shared some particularly amusing Dutch expressions and explained the special bond that Wassenaar maintains with the Royal House of the Netherlands. All three princesses grew up in Wassenaar and their old school lies three hundred meters from Kasteel De Wittenburg.
Mayor de Lange invited the ambassadors to celebrate Kings Day next year in Wassenaar, wished them all the best in their new posting and offered them a bag with Dutch cheese made with milk from Wassenaar's cows!
Spirits were high at this opportunity for the ambassadors to connect with Dutch society and to meet and greet their colleagues, fulfilling their mission and mandate: to build bridges.
It was clear that all the ambassadors were very keen to further tighten the friendship and business relationship with the Netherlands, as there are so many things that their countries have in common with the Netherlands.
The Director of Kasteel De Wittenburg, Mr. Ralf Meppelder was delighted that monthly National Days are celebrated at the castle in collaboration with the honorary members of Diplomat Club Wassenaar and emphasized the many facilities that the castle has to offer.
Mrs. Shida Bliek highlighted one of the partners of Diplomat Affairs Magazine, PAN Amsterdam, that has been the largest national fair for art, antiques, and design for 36 years. Over 125 art dealers, antique dealers and gallery owners from the Netherlands and abroad come together to showcase a carefully curated selection of modern and contemporary art, design, photography, old master paintings, 19th-century paintings, Asian and African art, as well as silver, jewellery, ceramics, glass, prints, books, clocks, and furniture.
On behalf of the Managing Director, Mr. Mark Grol and the Board of PAN Amsterdam, Mrs. Bliek extended the invitation to the exclusive opening in November to the honorary members of Diplomat Club Wassenaar.
https://www.diplomataffairs.nl/diplomat-affairs-magazine-celebrates-partnership-with-pan-amsterdam-2021/
You may also like...
Sorry - Comments are closed