Mayor de Lange welcomes new Ambassadors under the aegis of mutual connection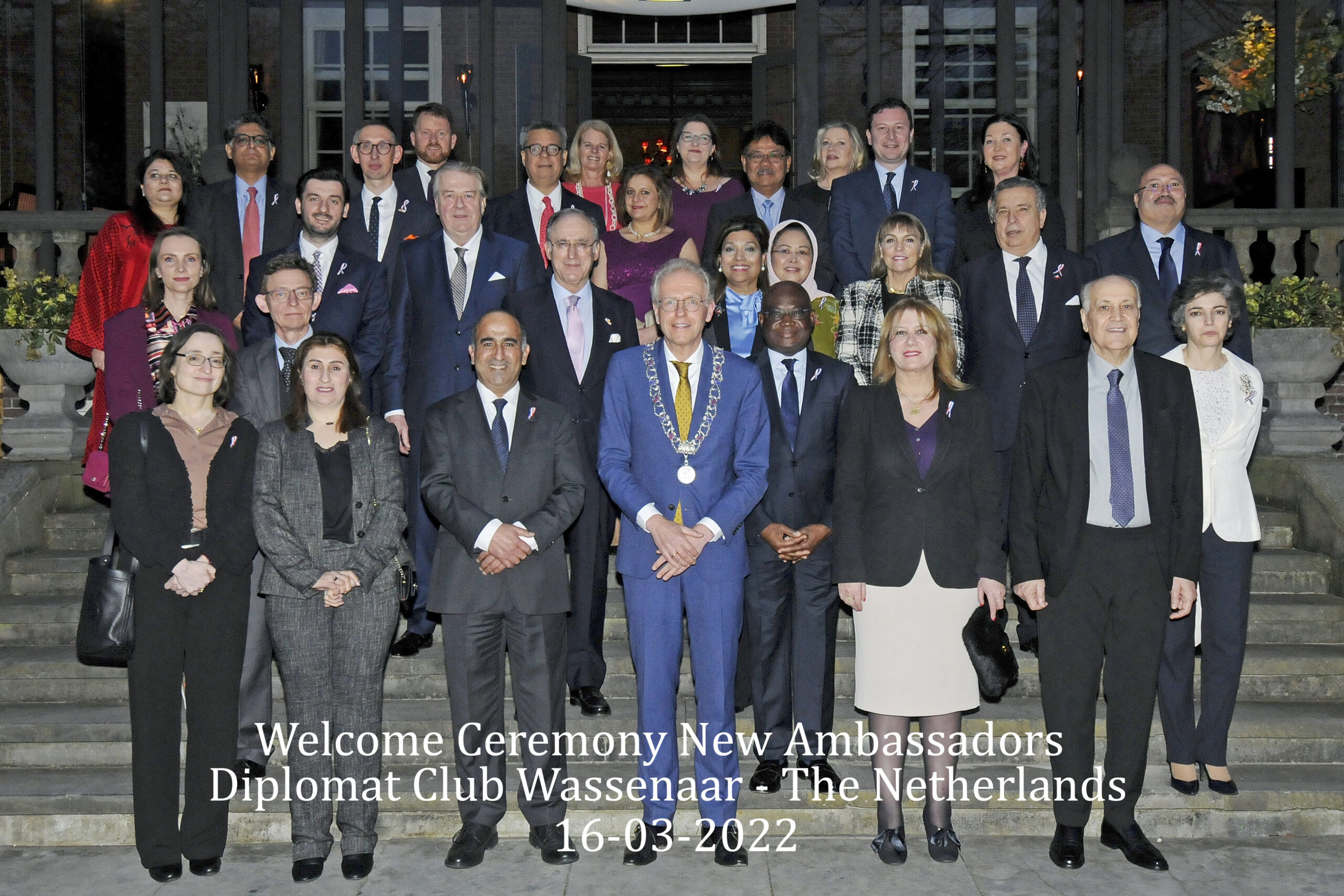 From left to right
First row: H.E. Ms. Anick van Calster (Belgium), Mrs. Eman Alfayez, H.E. Mr. Daifallah Ali Daifallah Alfayez (Jordan), H.E. Mr. Leendert de Lange (Mayor of Wassenaar), H.E. Mr. Francis D. Kotia (Ghana), H.E. Ms. Salima Abdelhak (Algeria), Mr. Hached Ali, H.E. Mrs. María Consuelo Femenía Guardiola (Spain)
Second row: Mr. Thierry Kochuyt, H.E. Mr. Fernando Arias (Ambassador DG OPCW), Mrs. Shida Bliek (President of DCW), H.E. Mrs. Dato' Nadzirah binti Osman (Malaysia), Mrs. Junia Fano, H.E. Mr. Hernán Salinas Burgos (Chile), H.E. Mr. Mohamed Basri (Morocco)
Third row: Mrs. Shoqipe Haradinaj-Doli, H.E. Mr. Dren Doli (Kosovo), Mr. Peter Bliek (President TenRande Foundation), Mrs. Patricia Rodriguez Cuellar
Fourth row: Mrs. Rabia Suljuk, H.E. Mr. Suljuk Mustansar Tarar (Pakistan), H.E. Mr. Lauri Kuusing (Estonia), Mr. Murray Brown, H.E. Mr. Fernando Antonio Grillo Rubiano (Colombia), Mrs. Caroline Klaver-Bouman (Alderman), H.E. Mrs. Susannah Hayden Gordon (New Zealand), Prof. Dr. Mohd. Yazid Abd. Manap, Mrs. Patricia van Oordt de Arias, H.E. Mr. David Solomonia (Georgia), Mrs. Olena Terentieva
March 16th, 2022, saw the Welcome Ceremony for New Ambassadors having presented their credentials to His Majesty King Willem-Alexander, hosted by the President/Director of Diplomat Club Wassenaar, Mrs Shida Bliek and the Mayor of Wassenaar H.E. Mr Leendert de Lange.
For a long time, the question remained whether to go through with this event or not, seen all the ongoing issues facing our world; the feeling however was that there is a need now, more than ever, for contact, dialogue, and mutual support.
The welcoming of the fourteen new Ambassadors took place as is customary at Kasteel De Wittenburg in Wassenaar, on a beautifully mild day, with a sky exotically veiled by Saharan sand.
The assembly of Ambassadors welcomed included, besides Mayor Leendert de Lange and Alderman Mrs. Caroline Klaver-Bouman, also the President of the Senate, H.E. Professor Dr Jan Anthonie Bruijn and Ambassador Director-General of OPCW, H.E. Mr. Fernando Arias.
Mrs Bliek, in her speech, stressed her delight at finally being able to resume with the bi-annual ceremonies and her belief in the value of building bridges with our honorary members and bestowed Dutch ribbons on the newly arrived Ambassadors before the traditional group photo was taken.
The new Ambassadors present, in alphabetical order of country are:
Algeria: H.E. Ms. Salima Abdelhak
Belgium: H.E. Ms. Anick van Calster
Chile: H.E. Mr. Hernán Salinas Burgos
Colombia: H.E. Mr. Fernando Antonio Grillo Rubiano
Estonia: H.E. Mr. Lauri Kuusing
Georgia: H.E. Mr. David Solomonia
Ghana: H.E. Mr. Francis D. Kotia
Jordan: H.E. Mr. Daifallah Ali Daifallah Alfayez
Kosovo: H.E. Mr. Dren Doli
Malaysia: H.E. Mrs. Dato' Nadzirah binti Osman
Morocco: H.E. Mr. Mohamed Basri
New Zealand: H.E. Mrs. Susannah Hayden Gordon
Pakistan: H.E. Mr. Suljuk Mustansar Tarar
Spain: H.E. Mrs. María Consuelo Femenía Guardiola
Guests were then guided through the exquisite gardens to a sit-down dinner in the castle's Oranje Nassau ballroom, where the flags, and photos of the new Ambassadors with His Majesty King Willem-Alexander, were on display on a large screen.
His Excellency the Mayor took the floor to welcome all guests, in particular the fourteen honoured today. In his speech, the Mayor thanked Mrs. Bliek for organising these special events and pointed out that municipal elections were being held all over the Netherlands that day and that:" In a democratic country, free elections are precious, and they deserve to be protected. Freedom is crucial and unfortunately not obvious everywhere as is once more evident. The concept of Democracy lies at the heart of the European Union (EU), as core value. We are at the moment in Europe in a very worrying situation caused by the invasion of Ukraine. Our thoughts are with the Ukrainian people and Wassenaar is supporting the Ukrainian refugees wherever possible."

The Mayor also rejoiced at our finally being able, after two years of Covid restrictions, to gather again, adding:" These are difficult times for you too as a diplomat. Let Wassenaar be the round table for your talks and do keep talking to one another. I wish you much wisdom in carrying out your task as Ambassador to the Netherlands."
His Excellency pointed out that the 'village' of Wassenaar counts 26.000 inhabitants, 20 percent of which are expats. It boasts excellent international schools, a green environment, a family beach, beautiful dunes, good restaurants, sports facilities, and a lively and very engaged society, without forgetting excellent cultural activities, such as the cinema in the Library, the Voorlinden Museum of Modern Art and of course the beautiful 18th century Castle, Kasteel De Wittenburg.
After teaching the assembly the Dutch iconic word gezellig meaning nice, cosy and a good atmosphere, he gifted the new arrivals with some Dutch cheese from the famed "Boerderij Nellesteijn" (a farm selling wonderful local produce).
Diplomat Club Wassenaar supports the Foundation Fund for Excellence of the Royal Conservatoire The Hague and students graced the assembly with music. On the program were Jan Domenic (piano) and Carolina Gemmel (singer).
Mrs Bliek seized the opportunity to address Ambassador Director-General of the OPCW, H.E. Mr Fernando Arias and congratulated him on having been re-elected for a second term as Director-General. She expressed her gratitude for his support towards the Club since it was founded in 2014 where he was then welcomed as Ambassador of Spain, adding: "Your ongoing support has inspired us, and made us what we are today".
She quoted Ambassador Director-General Arias on having said at one of the events: "We have a very special international community in The Hague and Wassenaar where diplomats establish strong relationships, which often develop into friendships and that helps them very much in their work". Mrs Bliek went on to add: "We do believe that we have created a neutral place in which friendships have tightened over the past eight years". A beautiful bouquet was handed to Mr Arias, as Mrs Bliek concluded "as most senior Ambassador seen your appointment as Ambassador of Spain for life, we are delighted to have you as the Dean of the Diplomatic Club and wish you and your spouse Mrs. Patricia van Oordt de Arias all the best!"
Ambassador Director-General Arias thanked Mr Peter Bliek and Mrs. Shida Bliek for their dedication to the Club and the special activities they support and addressed the guests saying," it is a pleasure being here with all of you. This week is no ordinary one, as you all know. Diplomacy is the only way to solve problems because diplomacy means good will, experience, and patience. We are professional people; we have all the tools in the world, and we will always find a solution."
Mrs. Bliek introduced the Director of Kasteel De Wittenburg, Mr. Ralf Meppelder, Chef Jim Boctor and the staff to the guests who were greatly thanked for their excellent work. Mr. Meppelder took the floor and highlighted the many facilities of the castle stressing how much they were looking forward, in collaboration with DCW, to continue organising the National days with the Embassies.
It was then time to thank the esteemed partners of DCW:
First and foremost, the TenRande Foundation, the Municipality of Wassenaar, the Royal Conservatoire The Hague and CHIO PortClub Rotterdam, and last but not least Kasteel De Wittenburg.
Article published on March 25th, 2022 in De Telegraaf. (click image to enlarge)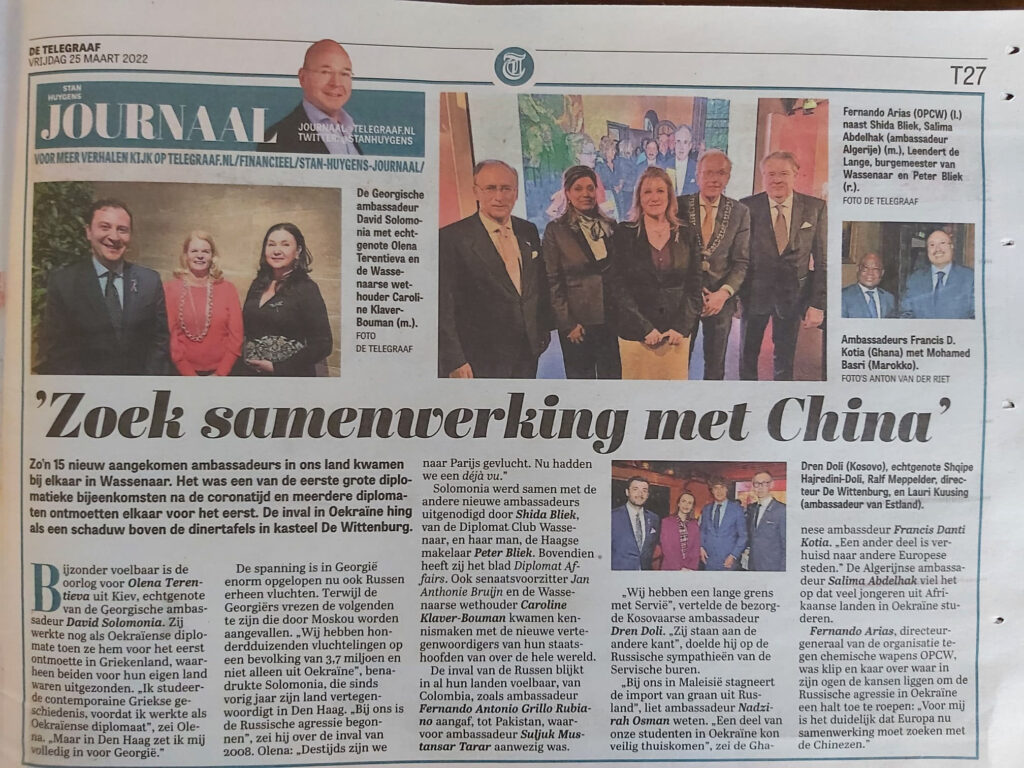 You may also like...
Sorry - Comments are closed