Australian Ambassador bids farewell to the Ambassador of Pakistan to the Netherlands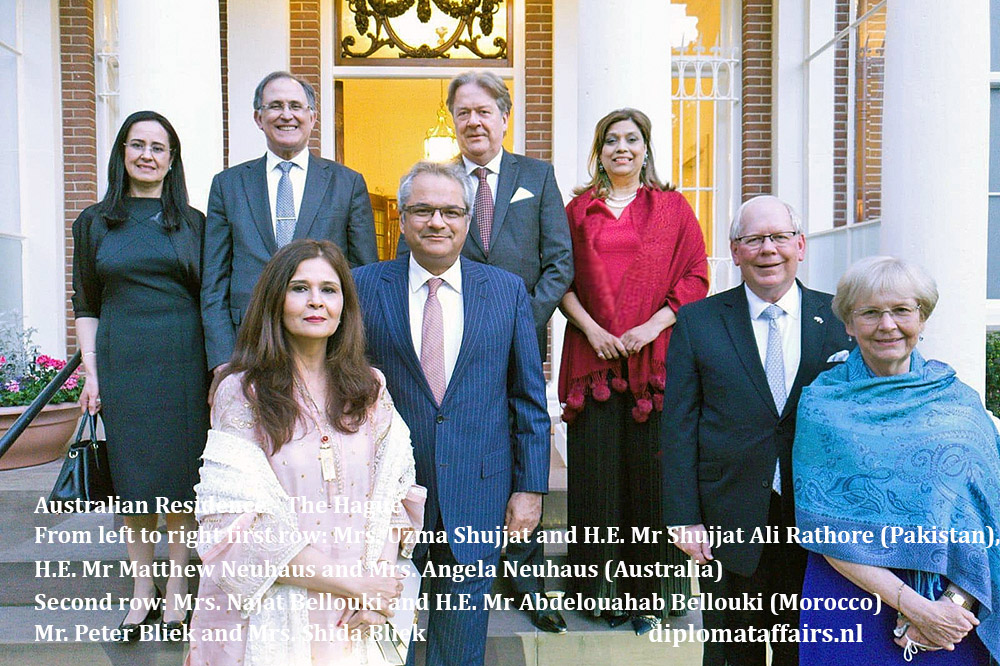 Photo: Embassy of Australia
The Ambassador of Australia, His Excellency Mr. Matthew Neuhaus and his charming spouse, Mrs. Angela Neuhaus hosted a dinner on May 19th, 2021 at their Residence in The Hague, to bid farewell to the Ambassador of Pakistan, His Excellency Mr. Shujjat Ali Rathore and his lovely spouse Mrs. Uzma Shujjat. H.E. Mr. Shujjat Ali Rathore, Ambassador to the Kingdom of the Netherlands since 2018, who will be moving on to his next posting as Ambassador to Spain.

Australia's diplomatic relations with Pakistan date back to the independence of Pakistan in 1947, and the first diplomatic mission was established in 1948. The two countries enjoy a long-standing relationship built on strong people-to-people links and share, amongst other things, a passion for cricket which was clear in the collegial discussions around the table, which brightened the evening with pre-Covid warmth, though at no moment were the strict COVID-19 regulations forgotten.
In his warm farewell address, Ambassador Neuhaus also addressed the Ambassador of the Kingdom of Morocco, H.E. Mr. Abdelouahab Bellouki and congratulated him as Morocco was elected by acclamation, to chair the Executive Council of the Organization for the Prohibition of Chemical Weapons (OPCW) on April 20th, 2021, in The Hague.
Thanks to the wonderful hospitality of Ambassador Matthew Neuhaus and Mrs. Angela Neuhaus, colleagues and friends had a chance to say goodbye to Ambassador Shujjat Ali Rathore, a distinguished Diplomat, highly appreciated not only by his colleagues, but also by Dutch society.
The guests wished Ambassador Shujjat Ali Rathore and Mrs. Uzma Shujjat 'tot ziens' and all the best in their future careers.
You may also like...
Sorry - Comments are closed