Australia celebrates the Diamond Jubilee of HM Queen Elizabeth II in The Hague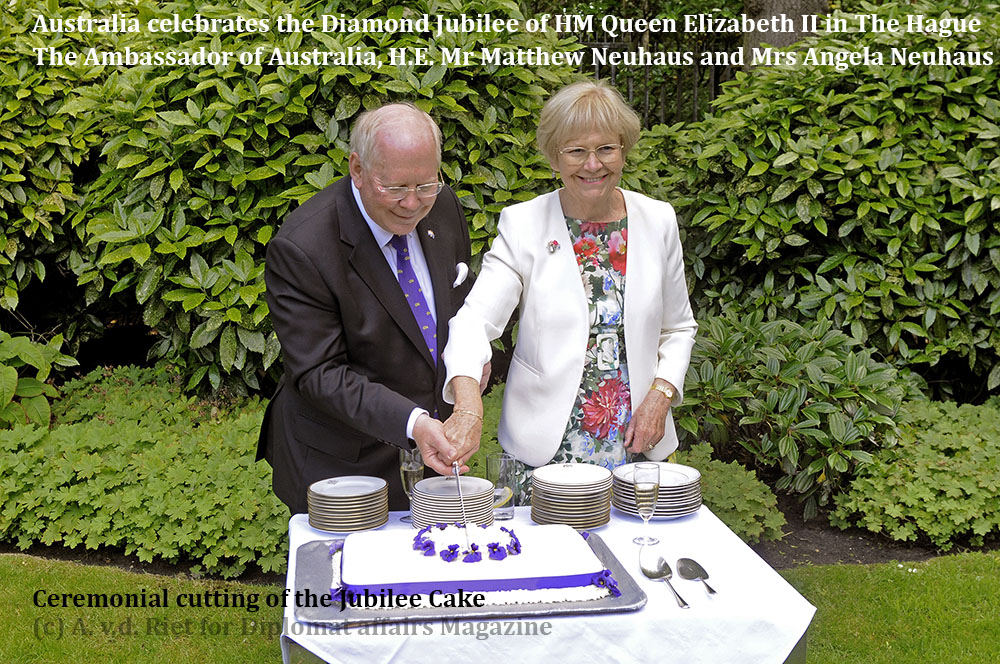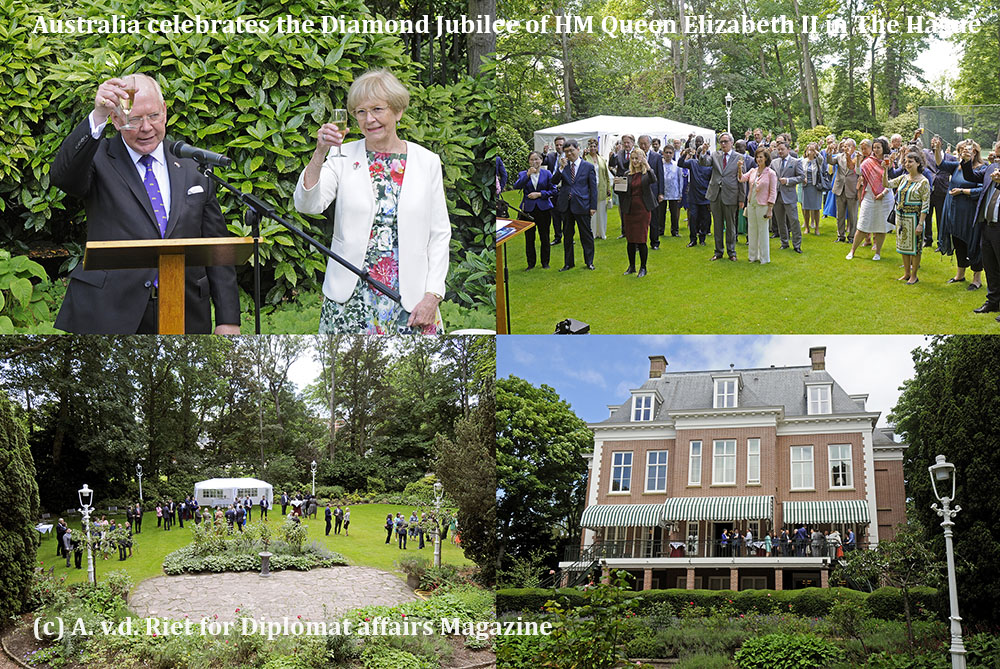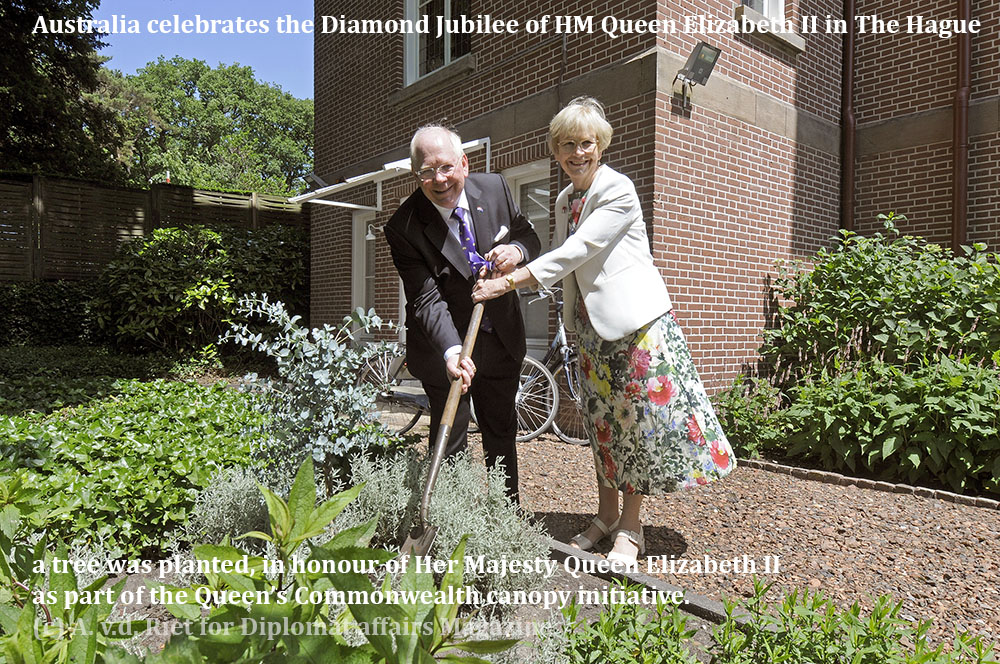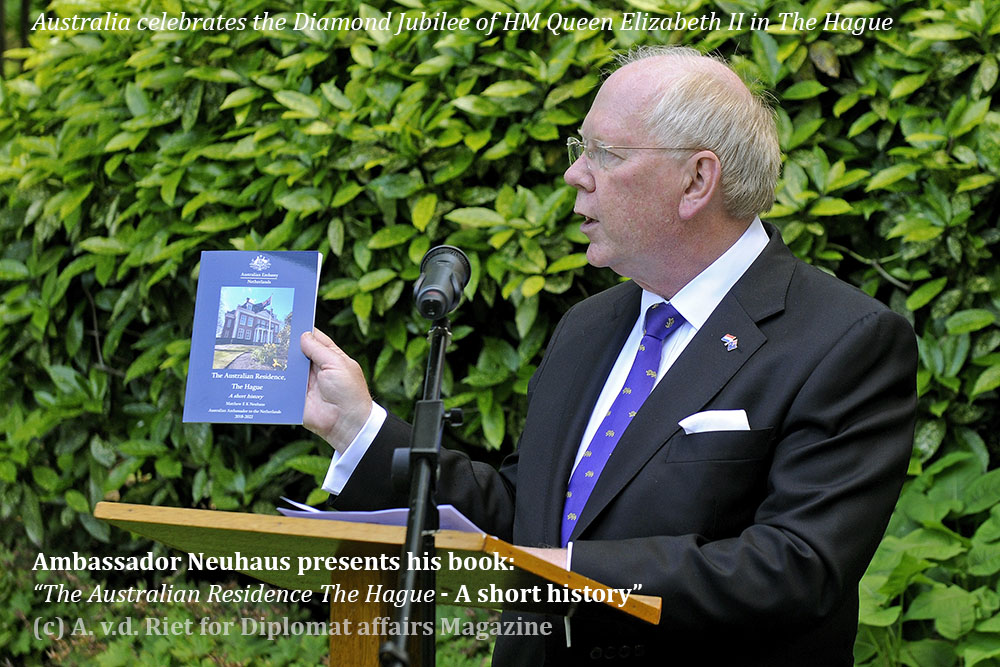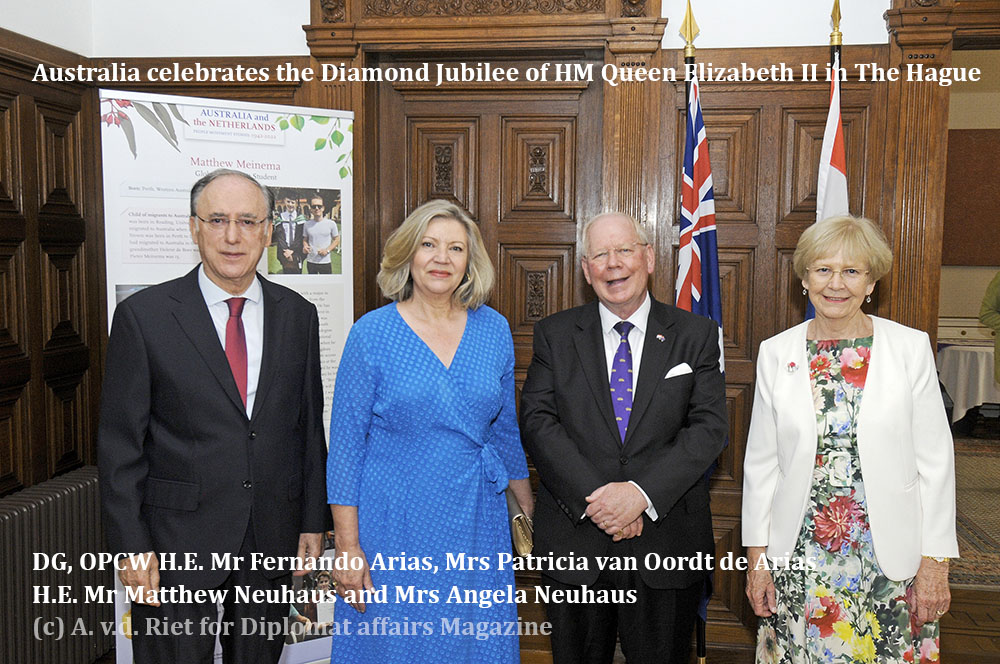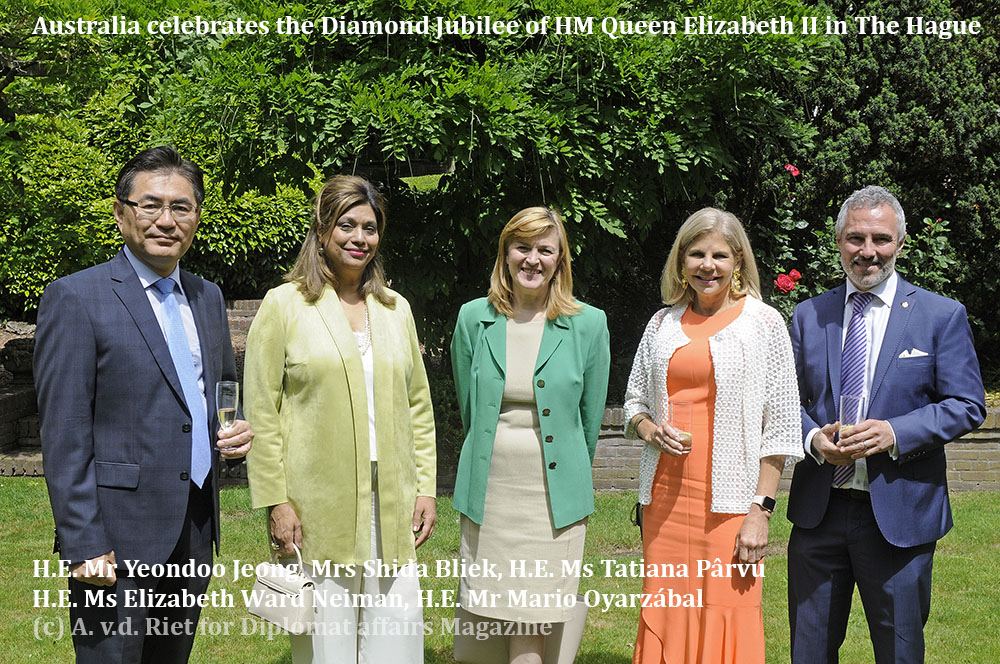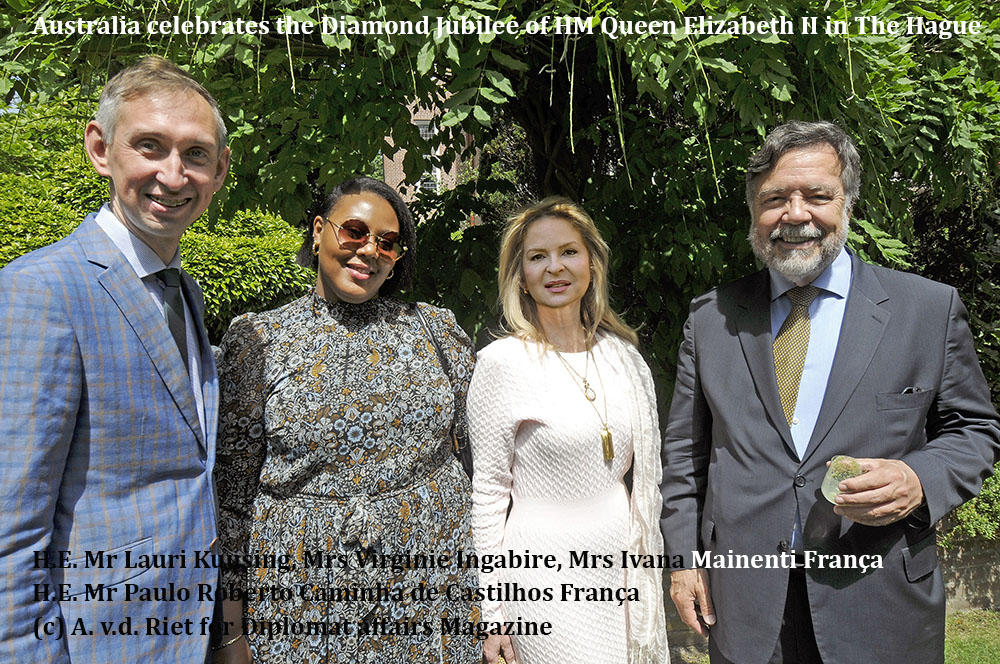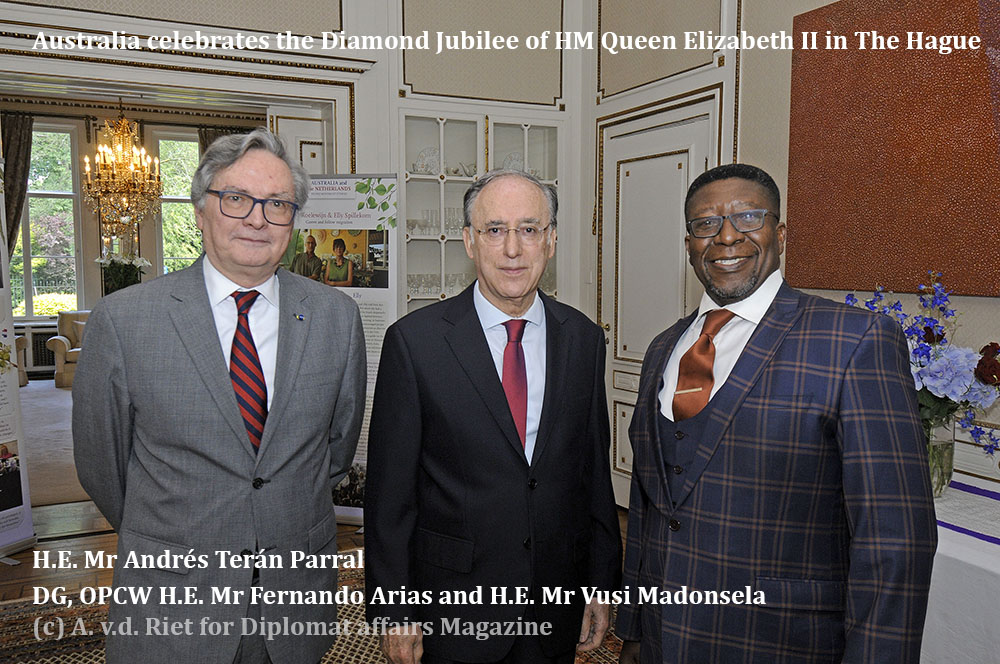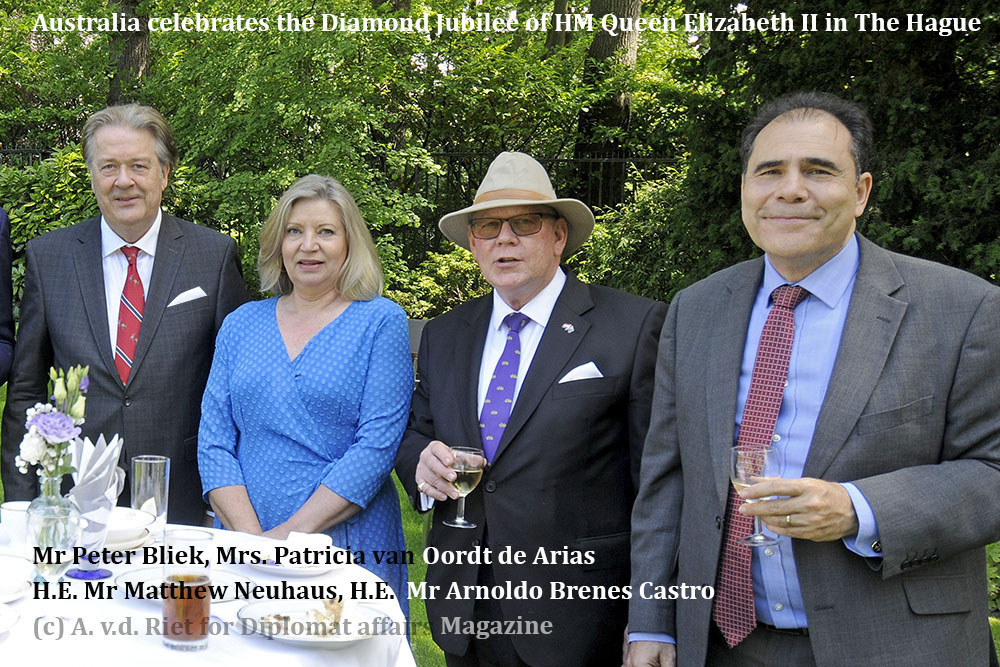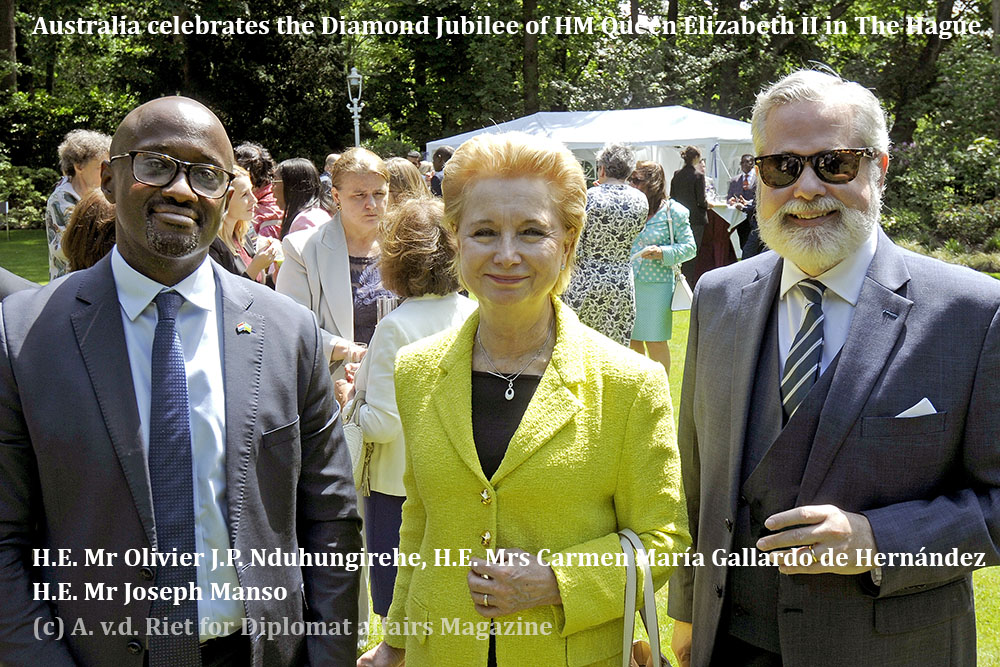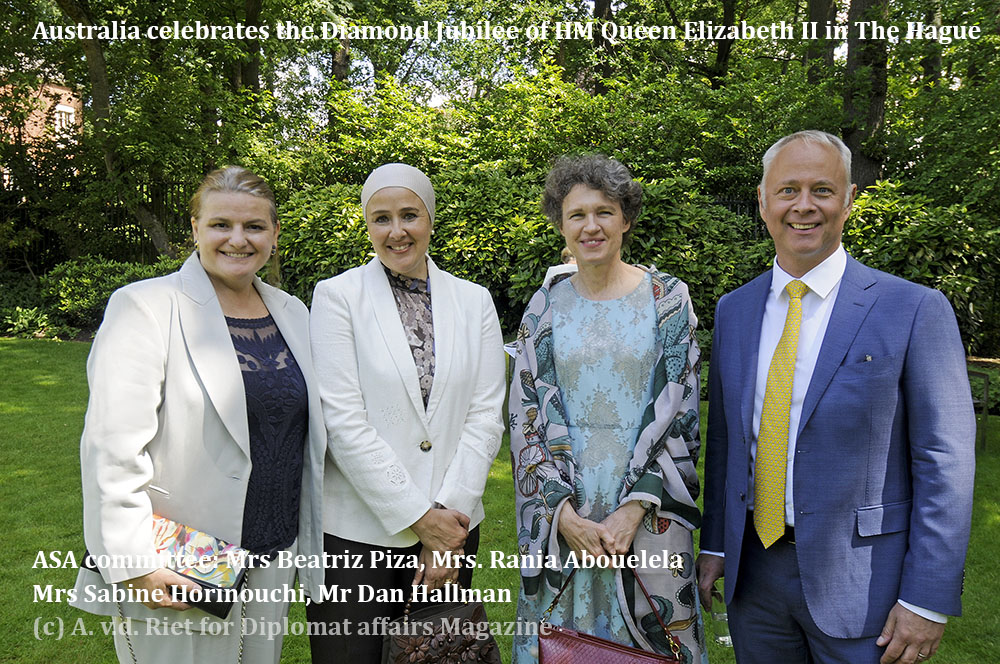 10 June 2022
What better way to celebrate the Diamond Jubilee of HM Queen Elizabeth II, also Queen of Australia and Head of the Commonwealth than with a garden party! And a delightful diplomatic Garden Party it was, hosted by the Ambassador of Australia, HE Mr Matthew Neuhaus and his charming spouse Mrs Angela Neuhaus in their stunning residence, in walking distance of the Peace Palace.
The entire event was an absolute delight as guests made their way through the historical residence and enjoyed this sunny afternoon in the wonderful garden. The trees created a welcome shade to enjoy the delicious canapes and sparkling Jansz and Koonunga Hill wine.
Ambassador Neuhaus captivated the audience with many warm anecdotes about his meetings with Her Majesty Queen Elizabeth II, truly bringing home to us the incredible dedication of this outstanding monarch, now seventy years on the throne. He highlighted his engagement with her, and her understanding of commonwealth issues, during his time in London as Political Director of the Commonwealth Secretariat (2002-8) when she was his "boss" as Head of the Commonwealth.
His Excellency seized the occasion to also present the beautiful book he has written: "The Australian Residence The Hague – A short history". As its name indicates, this fascinating booklet recounts the history of the Residence in the Hague and of its various occupants over the years.
Ambassador Neuhaus was supposed to leave this summer, but we were happy to hear that their departure is now postponed till October this year.
There were more highlights to come such as the ceremonial cutting of the Jubilee Cake, a task undertaken with gusto by His Excellency and spouse. A beautiful mix of pristine white icing and royal purple ribboning, the cake was not only a pleasure to the eye but also absolutely delightful.
Gardening was also on the agenda with a tree planting ceremony whereby a tree was planted by Ambassador Neuhaus and Mrs Neuhaus, with the warm encouragement of the guests, in honour of Her Majesty Queen Elizabeth II, as part of the Queen's Commonwealth canopy initiative, a network of forest conservation programmes started in 2015.
Guests happily mingled and wandered around the various panels on display, with the theme "Australia and the Netherlands – people movement stories", a hybrid in vivo and online exhibition, "showcasing how the migratory movement between the two countries changed over the last 80 years and the way oral history can enrich migrant heritage that is dispersed over different collections in different countries and vice versa". This is one of the many events marking the 80th anniversary of full diplomatic relations between the Netherlands and Australia.
What a gift this afternoon was, long live the Queen!
You may also like...
Sorry - Comments are closed