Uruguayan Tannat wine celebration week, a story to tell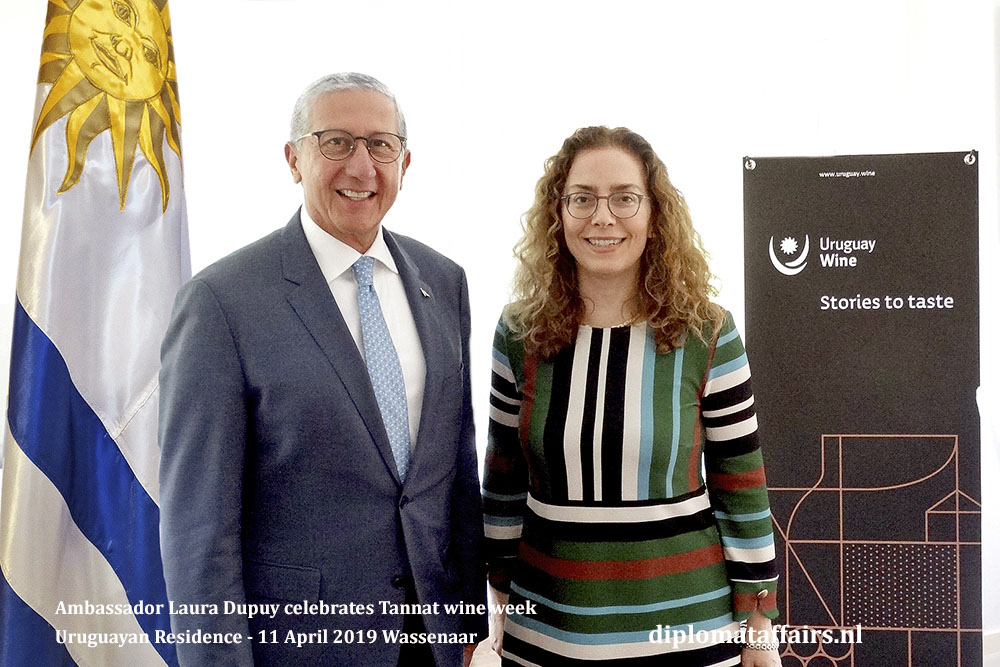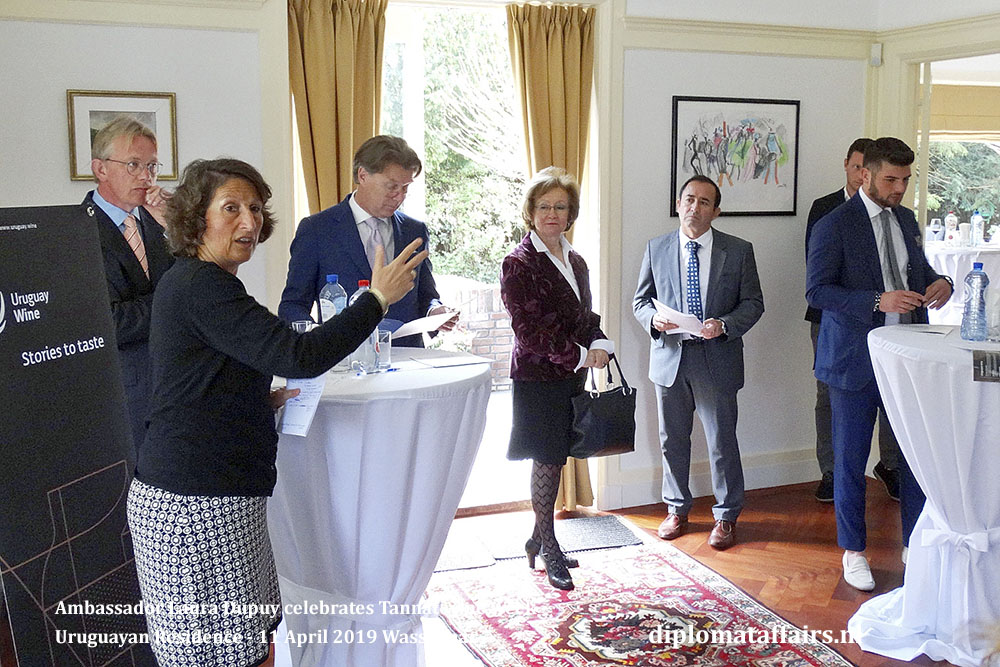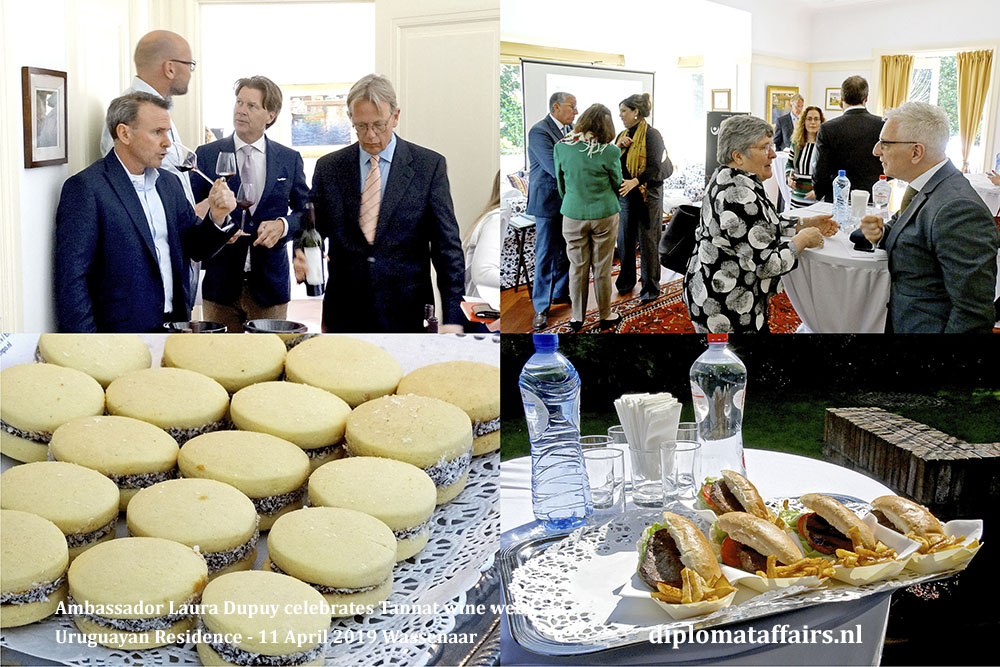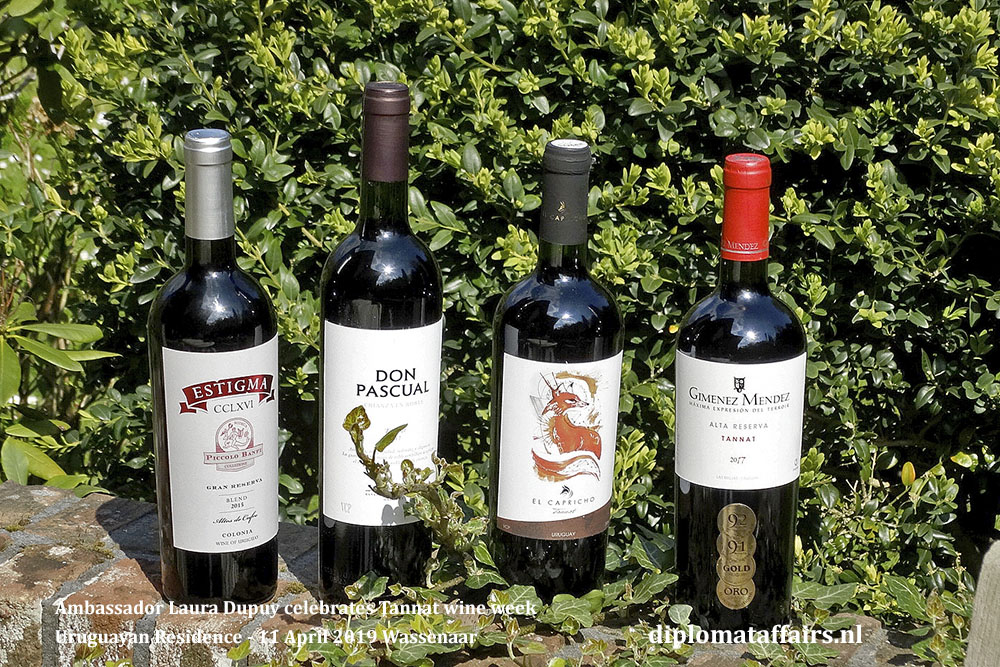 Photos by the Embassy of Uruguay
What a treat for the guests attending the celebration of Tannat wine week at the Uruguayan residence in Wassenaar on April 11th 2019.
This was the first time the event was organised in the Netherlands, and it was held in cooperation with INAVI, the Uruguayan National Institute of Viticulture which sent out wines from four wineries not yet available on the Dutch market for the occasion: Establecimiento Juanicó / Familia Deicas, Piccolo Banfi, El Capricho and Giménez Méndez.
Her Excellency, the Ambassador of Uruguay, Laura Dupuy provided the background for the tasting, explaining that the Tannat red wine grape, originally from South-West France (Madiran and the Basque country) was brought by immigrants to Uruguay at the beginning of the XIX century. This then led the Basque businessman don Pascual Harriague, who settled in Salto, Uruguay, in 1840 to start the production of Tannat wine under his own name. 100 years later, with the establishment of INAVI and the reconversion of its national wineries, the name was changed to Tannat. In honour of Mr. Harriague, known as the father of Uruguayan modern viticulture who died April 14th, 1894, this date was chosen to hold an annual week of commemoration activities around Tannat wine.
Uruguay is proud of being associated with the Tannat (also with football and beef) and has hosted since 2004 the contest "Tannat al Mundo" (Tannat to the world), having its wines receive many international distinctions.
And we understand why! These intense ruby-red wines, so full of taste are a real pleasure to the palate and married splendidly with the Uruguayan beef served. It was not difficult to understand why such a "small country" – the Ambassador's words- (indeed the second smallest in South America but still 4 times the size of the Netherlands!) attracts so many tourists! And many do come to visit the wineries, which for 99% are family businesses since three or four generations, exporting to some 50 countries. VINEPAIR included Uruguay among the world's top 10 wine destinations for 2019. Jacqueline Snoeker, from Vinergy consultancy, was also present and added some specialized information. It was good to know that in the Netherlands, Tannat wines from Bodega Carrau are available, thanks to the contribution of De Monnik Dranken –its importer-, from Garzón –imported by Gall&Gall / Albert Heijn-, and from Terrazul, a Dutch producer in Uruguay –who also participated in Prowein, Dusseldorf this March, and was also present.2
As the guests enthusiastically tasted and compared these sumptuous wines, the Ambassador continued to enlighten us with worthy facts about her country. For example: "How it stands out in terms of democracy, corruption perception, rule of law, press freedom and prosperity." Uruguay ranked first in Latin America on the Democracy Index (The Economist intelligence unit for 2018), its GDP has been growing for more than 14 successive years (2004-2018), it is a country which invests in its people, in digital connectivity all over the territory, in renewable energies (since 2016, 98% of electricity is renewable), and its beef production is 100% clean (no antibiotics or hormones), is grass fed and 100% traceable.
Certainly, food for thought… Talking about food, guests delighted in the traditional empanadas and "chivitos" (tenderloin sandwiches) served and took to heart the Ambassador's recommendation that these divine wines go perfectly with a Uruguayan barbeque, but for that we would need to travel there! Incentive enough to do so …
You may also like...
Sorry - Comments are closed