A night at the Astana Opera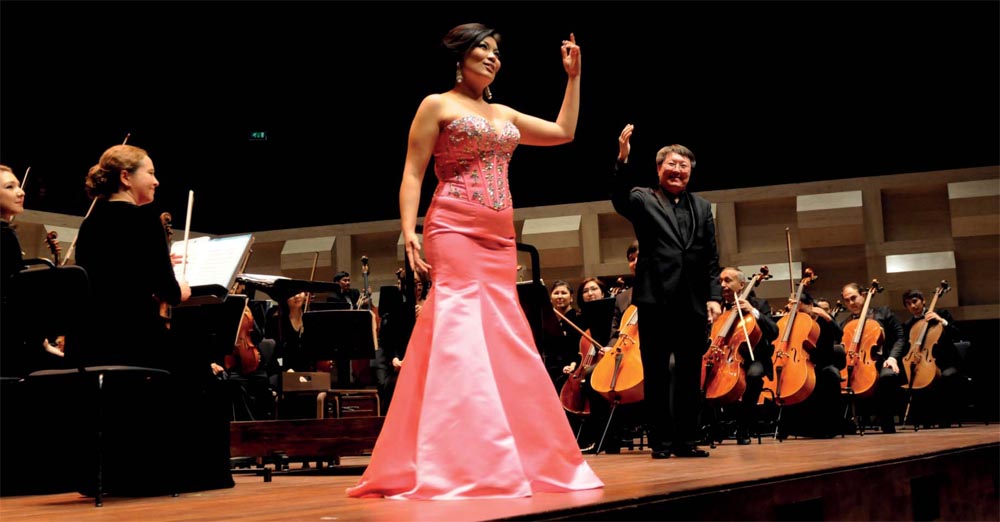 The final concert of the first world tour of the theater 'Astana Opera' was performed on November 5 in Rotterdam at De Doelen concert hall. During a press conference held on the
eve of the event the video 'Astana Opera' was presented to the Dutch public. The Director of Astana Opera, Tolegen Mukhamedzhanov, informed journalists and representatives of the Dutch cultural community about the activities of the theater.
At the opening ceremony of the concert, welcoming remarks were made by Her Excellency, Ms. Mainura Murzamadiyeva, Ambassador Extraordinary and Plenipotentiary of the Republic of Kazakhstan to the Kingdom of the Netherlands, Mr. Adriaan Visser, Vice-Mayor of Rotterdam, Mr. Sang Hyun Song, President of the International Criminal Court and Mr. Tolegen Mukhamedzhanov, Director of Astana Opera.
The Symphony Orchestra opened the concert with Kazakh kui 'Kudasha Duman' by Yerkegali Rakhmadiyev. Next was the scene of the opera 'Abai' by Ahmet Zhubanov and Latif Hamidi, which was presented by Dina Khamzina and Baigali Mombekov, the leading soloists of the Astana Opera. The Dutch public greatly appreciated the premiere performance of the Triumph scene from the opera 'Aida' by Giuseppe Verdi. In the second part the guests enjoyed the performance of Kazakh masters of the scene from the opera 'Birzhan Sara' by Mukan Tolebayev, Kui 'Tolgau' by Tolegen Mukhamedzhanov, the Coronation scene from the opera 'Boris Godunov' by Modest Mussorgsky, the Azucena monologue from the opera 'Il Trovatore', Juliet's Waltz from the opera 'Romeo and Juliette' and the scene of the Polovtsian Camp from the opera 'Prince Igor'.
After the concert, the audience rewarded the Kazakh artists with a thunderous applause. In the lobby of the concert hall the guests enthusiastically shared their impressions. Among the guests at the party were the heads of international organizations, members of the Parliament of the Kingdom of the Netherlands, heads of diplomatic missions, the management of large Dutch companies and banks, intellectuals of the Benelux countries, a large Kazakh diaspora and students studying in the Netherlands.
As the Secretary General of the Organization for the Prohibition of Chemical Weapons, OPCW, Ahmet Uzümcü, said "today we have witnessed a stunning performance of the masterpieces of world classical and national Kazakh music artists. Astana Opera gave us an unforgettable evening of high art." According to Ingrid de Caluwe, Member of the Parliament of the Kingdom of the Netherlands, "tonight we have seen how talented the people of Kazakhstan are and it is a great honour for me to see and hear such a high mastery of different musical genres."
You may also like...
Sorry - Comments are closed