TEFAF restoration fund granted € 50,000 to paintings Francisco de Zurbarán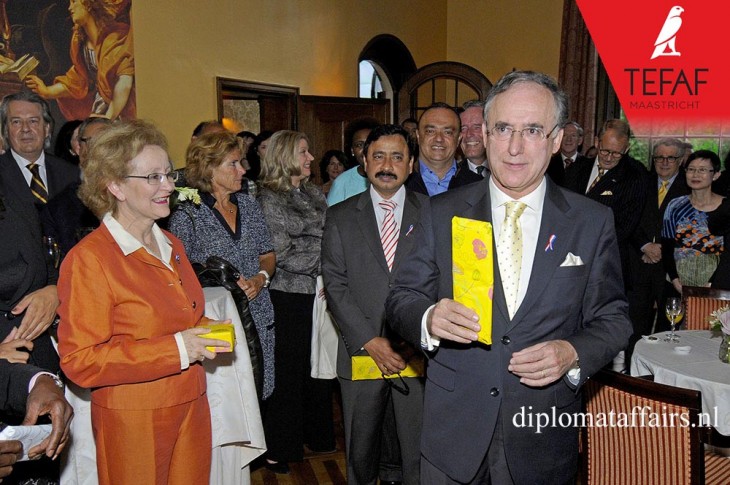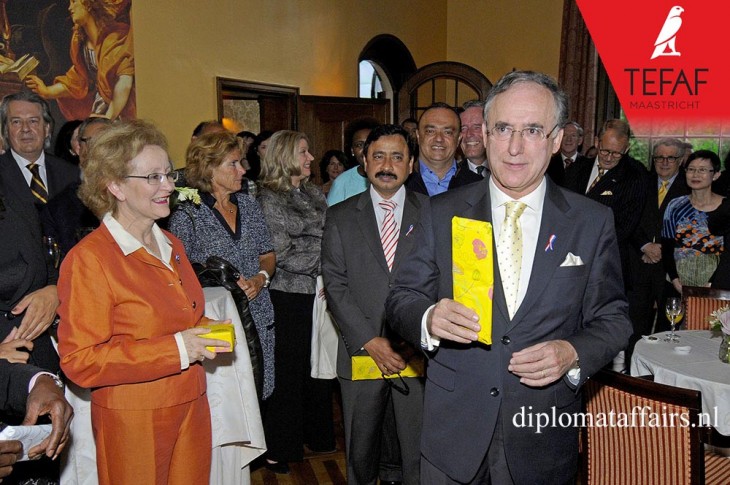 By H.E. Mr. Fernando Arias, Ambassador of the Kingdom of Spain.
Immediately upon entering TEFAF (The European Fine Arts Fair ) that I had the opportunity to visit on the 12th of March, one is taken aback by the spectacular and original lighting and design of the central hall.
TEFAF is regarded as the world´s leading art fair.
Over 275 top galleries from 20 different countries exhibit an impressive array of masterpieces from all periods, including paintings, furniture, textiles, clocks, ceramics, crystal, glass, silver and gold objects, jewelry, icons, sculptures, books, manuscripts, maps etc.
The items on display cover a vast period from ancient to contemporary and span the globe as well: Europe, America, Asia, and Africa.
In this unique framework of beauty and excellence I had the opportunity to speak to people in charge of several galleries and also to exchange points of view with the distinguished guests during the lunch hosted by Mr. Jan Hoekema, Mayor of Wassenaar and Ms. Shida Bliek, founder of Diplomat Club Wassenaar and her husband Peter Bliek, in one of the smart restaurants of the fair. The guests, the Ambassadors, Honorary members of Tefaf and the high ranking representatives of top companies, allowed for a lively atmosphere with much conversation about all that had been viewed.
Additionally I had the personal satisfaction to see that TEFAF Museum Restoration Fund granted 50.000 Euros to two projects towards the restoration of two masterpieces of the Spanish painter Francisco de Zurbarán (1598-1664).
The paintings concerned are Saint Francis of Assisi in Meditation (Museum Kunstpalast of Düsseldorf) and Saint Serapion (Wadsworth Museum of Art in Hartford, USA).
From the pages of this magazine I wish to congratulate the organizers of TEFAF and the Sponsors. They can be proud of having achieved for yet another year, an outstanding exhibit of art works and excellent personal and professional care to visitors, who could enjoy the festive and elegant setting full of beautiful flowers arrangements.
My sincere thanks to the Executive Committee of TEFAF, and especially to its Chairman Mr. W. van Roijen, the Management team, and in particular the General Manager Mr. P.Hustinx and the Mayor of Wassenaar as well as the Diplomat Club Wassenaar for giving us the opportunity to visit and enjoy this event.
Fernando Arias
Ambassador of Spain
The Hague. The Netherlands
You may also like...
Sorry - Comments are closed