Celebrating the 91st Anniversary of the Unification of the Kingdom of Saudi Arabia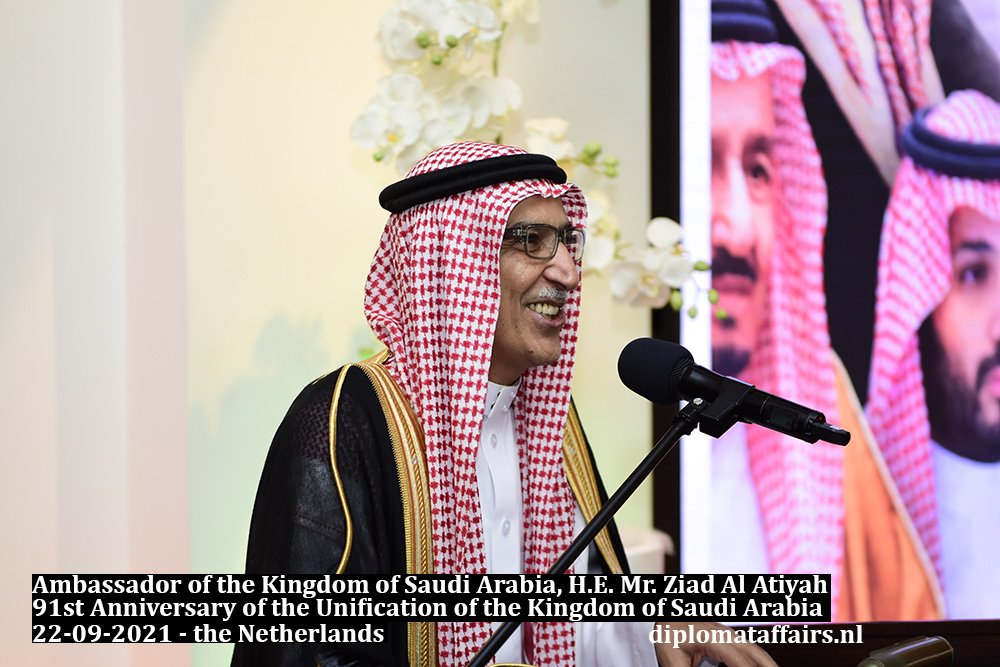 Author: Julie Kennedy, Photos: Omar Alsorory
Guests gathered, on September 22nd, at the invitation of His Excellency Ziad M.D. Al Atiyah, Ambassador of the Kingdom of Saudi Arabia to the Kingdom of the Netherlands, to celebrate the national Day of the Kingdom of Saudi Arabia at Diplomat Club Wassenaar/Kasteel de Wittenburg.
His Excellency started his speech, after a warm welcome, by congratulating the Custodian of the Two Holy Mosques His Majesty King Salman bin Abdulaziz Al Saud, His Royal Highness Crown Prince Mohammad bin Salman bin Abdulaziz Al Saud, and the Saudi people.
And by sharing a Koranic verse stating:
"O mankind, indeed We have created you from male and female and made you peoples and tribes that you may know one another. Indeed, the most noble of you in the sight of Allah is the most righteous of you. Indeed, Allah is Knowing and Acquainted."
The Ambassador shared that for him, this verse summarised, "the essence of our noble profession of building bridges that facilitate the flow of culture, science, trade and are paved by mutual respect, understanding and dialogue".
Read more in the printed magazine, Diplomat Affairs: page 64/69
You may also like...
Sorry - Comments are closed