King's Day 2021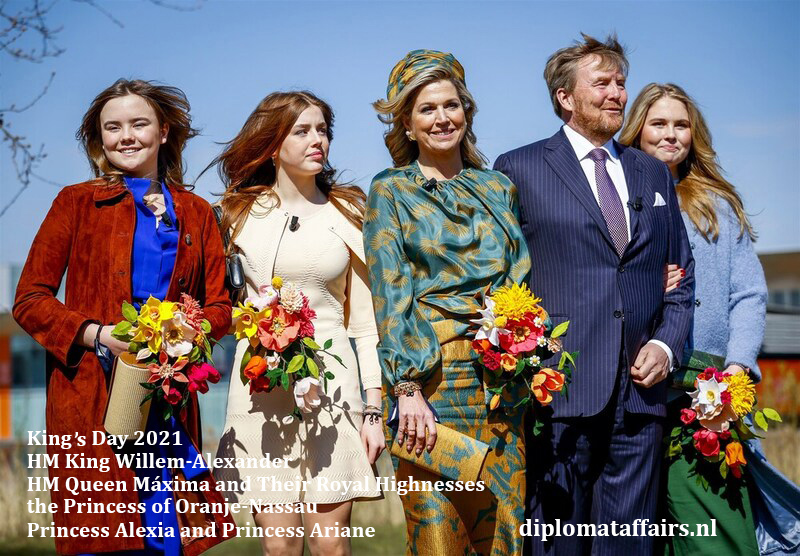 Photo: ANP/Koen van Weel
His Majesty King Willem-Alexander, Her Majesty Queen Máxima and Their Royal Highnesses the Princess of Oranje-Nassau, Princess Alexia and Princess Ariane arrived at the High-Tech Campus in Eindhoven on the occasion of King's Day 2021 where they were warmly welcomed by Mayor John Jorritsma and the Commissioner of the King Ina Adema.

Seen the restrictions imposed by the ongoing Covid-19 pandemic, King Willem-Alexander celebrated his 54th birthday from a studio at the Campus. Together with Queen Maxima and his daughters, he participated in a special online and TV broadcast program in which Brainport Eindhoven presented itself based on the theme of KennisMaken. (a play on words meaning to meet and to make knowledge).

Brainport Eindhoven, located in Southeast Brabant consists of 21 municipalities and many campuses, field labs and innovation hubs dedicated to the high-tech manufacturing industry and a vibrant creative industry which offers lots of opportunities for innovative start-ups and is the leading high-tech region in Europe.

The citizens were not forgotten as two drones circled the city, enabling the inhabitants to 'wave' to the King and his family as the footage was directly visible in the studio, there was music, games, discussions and interviews.

His Majesty King Willem-Alexander presented his speech after the program in Eindhoven saying, 'hopefully, a King's Day never to be repeated' in which he very much hoped that next year he would be able to celebrate King's Day normally, referring to the restrictions due to the corona pandemic. His Majesty also said he sympathized with all those who have lost loved ones to corona, and with those who are now at home with the disease. The King and family expressed their deepest gratitude, adding it was 'an unforgettable birthday'.
https://brainporteindhoven.com/en/discover/what-is-brainport-eindhoven
You may also like...
Sorry - Comments are closed