First Pillar Ceremony for the OPCW Centre for Chemistry and Technology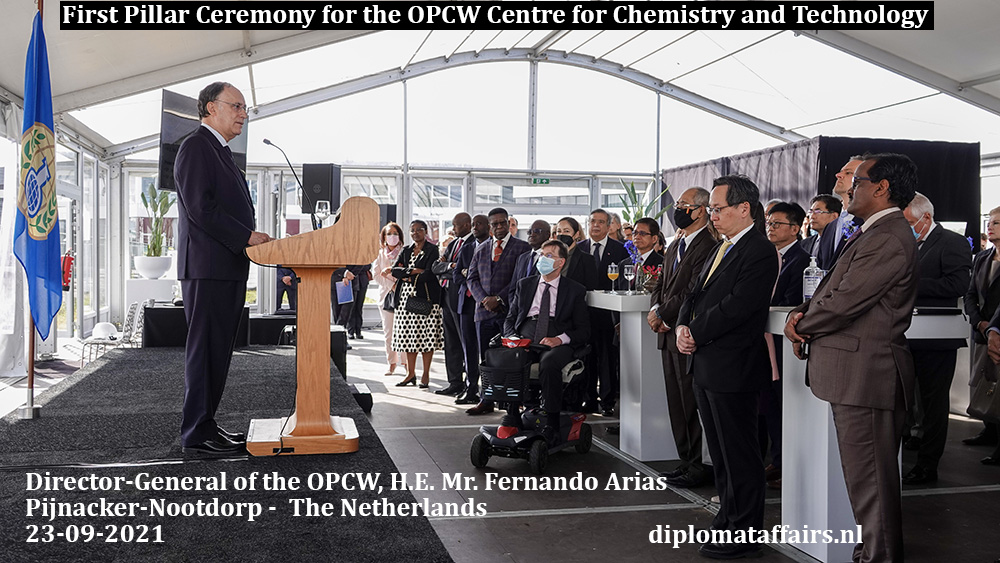 Vision and leadership for a better world free of chemical weapons
A cold yet sunny September 23rd saw the Director General of the OPCW, H.E. Mr. Fernando Arias host a "First Pillar" ceremony, launching the construction of the new OPCW Centre for Chemistry and Technology (ChemTech) in Pijnacker-Nootdorp, outside the Hague.
This is not just a building, nor just a stone but as H.E. Mr. Arias said himself: " This is more than the symbolic placement of the first pillar. It is the celebration of a common success of all of us, which means a success of the international community. We are aware that the world is evolving fast and there are more powerful weapons in the hands of more countries and non-state actors than ever before. We must adapt and continue to update our knowledge and equipment to this new situation. And we are doing so."
This first stone was placed by the Director-General, the Deputy Director-General, H.E. Ms Odette Melono, Chairperson of construction company Dura Vermeer, Mr Job Dura and the Managing Partner of Ector Hoogstad Architects, Mr Joost Ector. This symbolically initiated the construction of the new complex.
You may also like...
Sorry - Comments are closed