National day reception of the kingdom of Thailand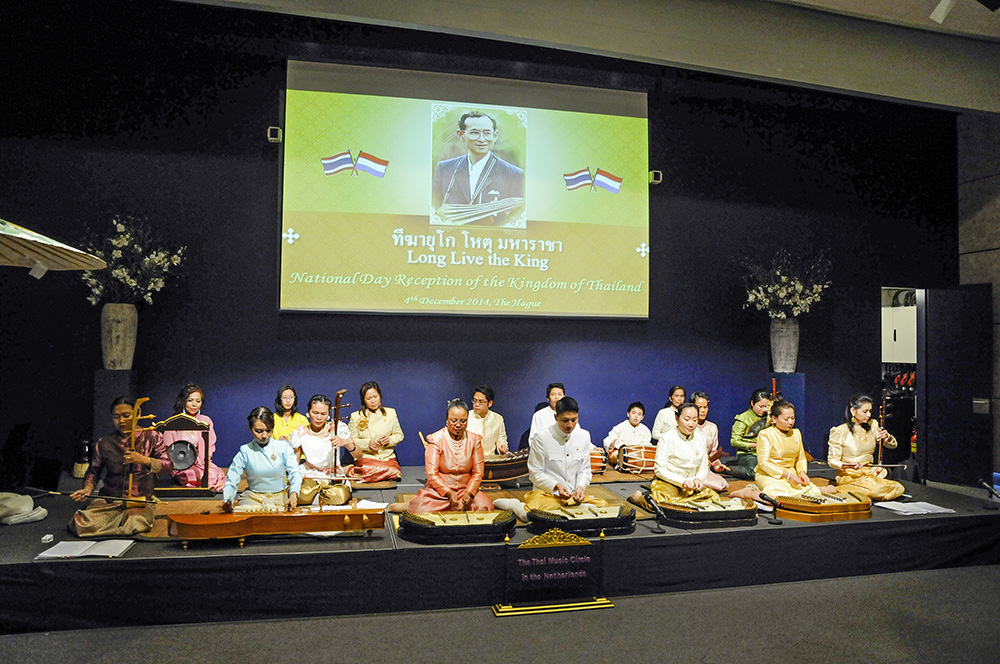 H.E. DR. VIRACHAI PLASAI, AMBASSADOR OF THE KINGDOM OF THAILAND
TO THE NETHERLANDS, AND HIS PASSION FOR MUSIC
Just rushed back from New York and despite his very tight schedule, H.E. Dr. Virachai Plasai made a very calm and relaxed impression as we had a pleasant conversation about one of his passions, music. I had the pleasure to get to know him better especially because he was the first Ambassador who supported the Foundation of Diplomat Club Wassenaar and
hosted cultural events at which music and the food of his country were highlighted. We got acquainted with his excellent talent as a musician. He was also the first to inspire Ambassadors to play music publicly. H.E. Mr. James Lambert Ambassador of Canada, also a very talented guitar player, followed his example and he even inspired former Ambassador of France H.E. Mr. Pierre Ménat to sing Karaoke.
Do you have professional music training? "During my childhood, I had violin and piano lessons but the passion for playing the guitar came when I went to study law inTours, France. I was blown away the first time I heard the song It don't come easy by Ringo Star. That was a wonderful inspiration'. Ambassador Virachai guides us to a special room at the Royal
Thai embassy in The Hague. A room full of traditional music instruments and I was invited to take a closer look at some special instruments, graciously donated by HRH Princess Maha Chakri Sirindhorn. He presented some instruments; one of them is called 'Ja Ke', a three-stringed musical instrument that looks like 'the crocodile', which Mrs. Elizabeth Plasai loves to play. Another instrument that Ambassador Virachai presented as his favorite one is a pair of 'Kong Kaek', literally, the Indian drums. Spontaneously the Ambassador took his shoes off and sat down on the floor to play the drums, meanwhile explaining the difference in sound between the female and male drum.
I thank Ambassador Virachai for this unique moment that Diplomat Affairs – in touch with the Dutch Magazine could witness. I also thank him for the music contribution, a blues band that he will be in charge of, at the next 'Cure for cancer' event, organized by TenRande Foundation on the 30th of November. His support for 'Cure for Cancer' is highly appreciated by the Dutch society and we are very proud that he is an honorary member of Diplomat Club Wassenaar.
Following is an impression of the National day reception of the kingdom of Thailand, 4th december 2014

You may also like...
Sorry - Comments are closed